Dental Implants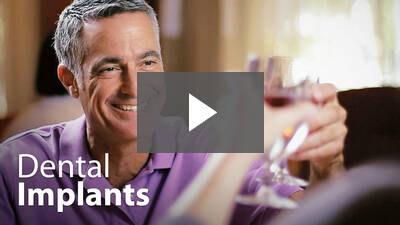 Although there are a number of options for the treatment of missing teeth, none have proven to be as effective and durable as dental implants.
At Dr. Sims Dentistry, you will receive complete treatment for dental implants from the placement of the implant through the final restoration – in the comfort of one dental office.
What is a Dental Implant?
A dental implant is an artificial tooth root that is used to anchor a replacement tooth. Depending on the number of teeth to be replaced, the dental implant may be attached to a dental crown to replace one missing tooth, bridge or partial denture for several missing teeth or to a denture, replacing all of the upper or lower teeth.
Who Needs Dental Implants?
Dental implants are used to replace missing teeth. Tooth loss can occur for a number of reasons including tooth decay, root canal failure, gum disease, trauma or congenital defects.
People who have missing teeth are often embarrassed to smile or talk. In addition, missing teeth create biting irregularities that can have a negative effect on eating habits and this can lead to secondary health problems like malnutrition. Regardless of the nature of problems related to tooth loss, dental implants may provide a simple remedy with proven results.
Advantages of Implant Dentistry
Stronger and more durable than their restorative counterparts (bridges and dentures)
Permanent solution to tooth loss
Allows patients to eat foods without restrictions
Highly aesthetic and natural looking
The Dental Implant Procedure
Today's dental implants are virtually indistinguishable from other teeth. This appearance is aided in part by the structural and functional connection between the dental implant and the living bone.
Dr. Sims is able to place dental implants in a single visit. In general, it takes the dental implant about 3 to 6 months to integrate with the bone, a process called Osseointegration.
During Osseointegration, a temporary dental crown, bridge or overdenture may be placed to accelerate the healing process and restore function while the dental implant heals.
Once the dental implant has anchored with the jawbone, the prosthesis may be attached and the process is complete.
Success Rates of Dental Implants
Dr. Sims has performed many dental implants and holds a high rate of success. Dental implants are among the most successful procedures in dentistry. While no procedure is guaranteed to never fail, studies show a 95% five-year success for lower jaw dental implants and 90% for upper jaw implants.
Unlike natural teeth, dental implants are not susceptible to the formation of cavities. Routine visits to the dentist are still very important to ensure the long term success of dental implants.