Crown/Bridge
To fabricate a dental crown takes two appointments. At the first appointment, the dentist will prepare the tooth to the ideal shape for the crown. The amount of the tooth removed will be the same as the thickness of the crown to be fitted. Once the tooth is shaped, the dentist will take an impression of the prepared tooth, one of the opposite jaw and another to mark the way you bite together. The impressions will be given to the technician, along with any other information needed to make the crown. At this first appointment, a temporary crown made of plastic will be temporarily cemented. In two weeks, the new crown will be fitted and cemented over your prepared tooth.
Crowns are an ideal restoration for teeth which have been broken, or have been weakened by decay or a very large filling. The crown fits right over the remaining part of the tooth, making it strong and giving it the shape and contour of a natural tooth. The crown, when cemented into place, fully encases the entire visible portion of a tooth that lies at and above the gum line. Crowns are indicated for a variety of reasons such as:
To protect a weak tooth (for instance, from decay) from breaking or to hold together parts of a cracked tooth
To restore an already broken tooth or a tooth that has been severely worn down.
To replace an existing restoration that covers more than half of the tooth.
A crown is indicated after root canal therapy to "reinforce" the tooth.
To cover and support a tooth with a large filling when there isn't enough remaining tooth structure.
To hold a dental bridge in place
To cover misshaped or severely discolored teeth
To cover (restore) a dental implant
There are three types of materials including: metal, all-porcelain, or a mixture of metal and porcelain.
Metal crowns are an excellent option. Compared with other crown types, less tooth structure needs to be removed with metal crowns, and tooth wear to opposing teeth is kept to a minimum. Metal crowns withstand biting and chewing forces well and probably last the longest in terms of break down. Also, they rarely chip or break. The metallic color is the main drawback. Metal crowns are a good choice for out-of-sight molars and for patients who clench or grind their teeth.
Porcelain-fused-to-metal dental crowns can be color matched to your adjacent teeth (unlike the metallic crowns). However, more wearing to the opposing teeth occurs with this crown type compared with metal crowns. The crowns porcelain portion can also chip or break off. Next to all-ceramic crowns, porcelain-fused-to-metal crowns look most like normal teeth. However, sometimes the metal underlying the crown's porcelain can show through as a dark line, especially at the gum line and even more so if your gums recede. These crowns can be a good choice for front or back teeth.
All-ceramic or all-porcelain dental crowns provide the best natural color match than any other crown type and may be more suitable for people with metal allergies. However, they are not as strong as porcelain-fused-to-metal crowns and they wear down opposing teeth a little more than metal crown. All-ceramic crowns are the most esthetic choice for front teeth.
Bridges
Dental bridges, like implants and partial dentures, are used to replace missing teeth. There are several types of fixed dental bridges (cannot be removed), including conventional fixed bridges, cantilever bridges and resin-bonded bridges.
Typically, crowns are placed on the shaped teeth and attached to an artificial tooth (called a pontic).
What Are the Benefits of Dental Bridges?
Restore your smile
Restore your ability to properly chew and speak
Maintain the shape of your face
Distribute the forces in your bite properly by replacing missing teeth
Prevent remaining teeth from drifting out of position
What Is the Process for Obtaining a Dental Bridge?
During the first visit, the abutment teeth (the teeth on either side of the missing tooth) are prepared. Preparation involves recontouring these teeth by removing a portion of enamel to allow room for a crown to be placed over them. Next, impressions of your teeth are made, which serve as a model from which the bridge, pontic, and crowns will be made by a dental laboratory. Your dentist will make a temporary bridge for you to wear to protect the exposed teeth and gums while your bridge is being made.
During the second visit, your temporary bridge will be removed and the new permanent bridge will be checked and adjusted, as necessary, to achieve a proper fit. Multiple visits may be required to check the fit of the metal framework and bite. This is dependent on each individual's case. After the fit is confirmed, the bridge will be permanently cemented into place.
Other options for replacing missing teeth include dental implants or a removable prosthesis.
Related Bridgework Articles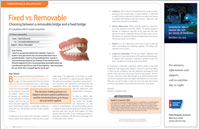 Fixed vs. Removable
For those patients who have lost all their teeth, but have not lost significant bone, a fixed bridge (permanent non-removable teeth) may be the treatment of choice since the new bridge is not needed for facial and lip support. However, not all patients are candidates for this treatment… Read Article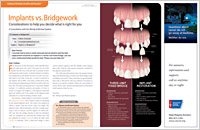 Implants vs. Bridgework
Considerations to help you decide what is right for you. However, a discussion with your dentist is necessary to discuss your specific situation. Please see your dentist to review all the risks, benefits and alternatives to determine which option is best for you… Read Article
Related Dental Crown Articles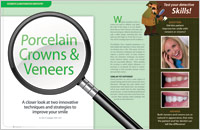 Porcelain Crowns & Veneers
A closer look at two innovative techniques and strategies to improve your smile. In many instances these two restorative techniques can produce nearly identical esthetic results, even though they are structurally different… Read Article
Value Of Quality Care
Are all crowns created equal? One of the most important factors adding to cost is the quality of the crown itself. Another fact is that dentists generally sub-contract out crown manufacturing to a dental laboratory technician, as they rarely make crowns themselves… Read Article
Creating In-Office Dental Restorations With Computers
Once upon a time, dentists – and patients – needed to wait weeks for a dental laboratory to make crowns and other dental restorations. Now, with an exciting digital technology known as Computer-Aided Design/Computer-Aided Manufacturing (CAD/CAM), some dentists are fabricating high-quality restorations themselves right in their own offices – in minutes! Read Article